Sources for research on Polish phonography since 1878 till present days – a bibliographic project of the Sound Libraries Section of the SBP
The task of the Sources for research on Polish phonography since 1878 till present days is a continuation of the task performed in 2016-2017 under contract 915/P-DUN/2016 and in 2019-2020 under contract 839/P-DUN/2019. The current project was implemented in 2021 and 2022 under contract SONP/SN/514674/2021, thanks to funding from the Minister of Education and Science under the "Social Responsibility of Science" ("Społeczna odpowiedzialność nauki") program.
The bibliography is the first registration in the country and in the world of publications and unpublished scientific works devoted to Polish and Polish diaspora music and non-music recordings (composers, authors and performers), as well as of Polish record companies operating in the historical territory of Poland. It also takes into account phonographic texts prepared by Polish authors or published in Polish. The work covers a period from the patenting of the Thomas Edison phonograph, the world's first device for recording and reproducing sound, to modern achievements in the field of sound and film music recordings.
The goal of the project is to collect source material for further research on Polish culture, focusing on general cultural and historical topics (e.g. the Polish phonographic industry, activities of Polish record companies), musicology (e.g. musical performance, biographies of Polish musicians, repertoires of audio publications) or topics related to the area of cultural sociology (e.g. reception of phonographic recordings). As well as scientists and students, the audience of the work may include other professionals or amateurs concerned with music and sound recordings, e.g. educators, music lovers, collectors, etc. The adopted form in which the project is presented allows for its continuation.
---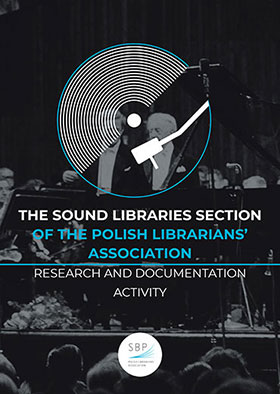 The Sound Libraries Section of the Polish Librarians' Association